Okay, from the start, let me be clear what i'm talking about when i say 'rowing.'
I'm talking about the top hand ONLY, and actively pushing it forward (towards the back of the pit) during the entire vault. Really hope you all understand what i'm talking about on this...
That being said....
During my vault, as soon as I come off the ground i'm jamming my top hand forward in the aforementioned "row." I've always done that, it's how i get through poles and it's how i swing. So, during the entire vault, i'm actively pressing my top hand towards the back of the pit. My question is, Is this a bad thing?? I'm pretty sure it is.
I've been studying videos of my vault pretty hard, and it seems that by pressing my top hand like i do, it puts me in a bad position at the top of my swing. Its putting my center of gravity more towards the runway than towards the pit, and keeping me from a full inversion and "I-position" This side-by-side picture of me vs bubka is about the best way to show you what i'm talking about. I drew a red line from top hand and through the shoulder to better illustrate what i'm talking about: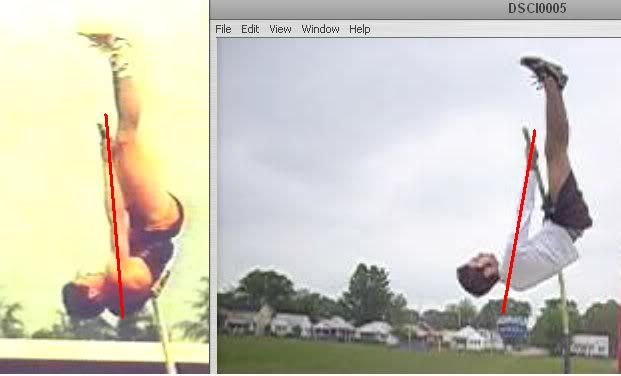 See how his top hand/arm are more vertical, even leaned back a little.... and in contrast, how my top arm is leaned more towards the crossbar/pit? That's because i'm pressing it forward.
Anyway, What's the deal here? Am I wrong for pressing my top arm forward like that? Someone shed some light...